Just a quick post.
You know there are always colours that are asked for that are not the easiest ones to track down…….don't be silly I hear you say…..but it definitely is true with the colour navy.
People who sell beads all have there own version of navy and when it is ordered its not 'my' version of navy. Its invariably lighter than what i think navy should be.
So….finding 'my' navy takes time…………BUT I do seem to have had some success :-)
If you are craving a navy necklace or bracelet then pop along to the stall and take alook.
Dont hang around though as it usually flies off the table with all those spring/summer wedding outfits being planned.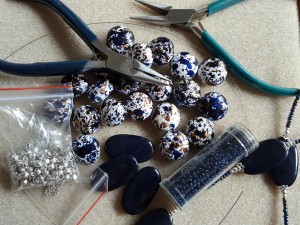 I shall be at usual Farmers Markets and also a few local events including The English Festival and Rochester Sweeps so check my calender to find out where I will be in the next month or so.
See you soon :-D